Here at Concentric we are pleased to announce the opening of a new branch in Hinckley.
To cater for the growing demand of landlords seeking property advice and support in the region, the new branch located on 3 Hill Street, Hinckley, LE10 1DS, was officially opened by the Mayor of Hinckley and Bosworth, Cllr Ozzy O'Shea and Mayoress Jenny O'Shea on Friday 21st July.
Cutting the ribbon at the new branch, the Mayor Cllr O'Shea welcomed the investment in the area along with the jobs that have been created and will continue to rise as the Hinckley branch grows.
The Hinckley branch, provides the region access to a wide range of residential property services, from lettings to full property management, estate agency for sales, property acquisition and refurbishment. To help landlords stay on top of property legislation, they will have the added benefit of participating in Buy to Let advisory workshops and seminars run by Concentric.
In addition to these services, the branch also offers expertise on company lets for some of the largest businesses in Hinckley and nearby areas, such as Triumph on Normandy Way and Caterpillar in Desford.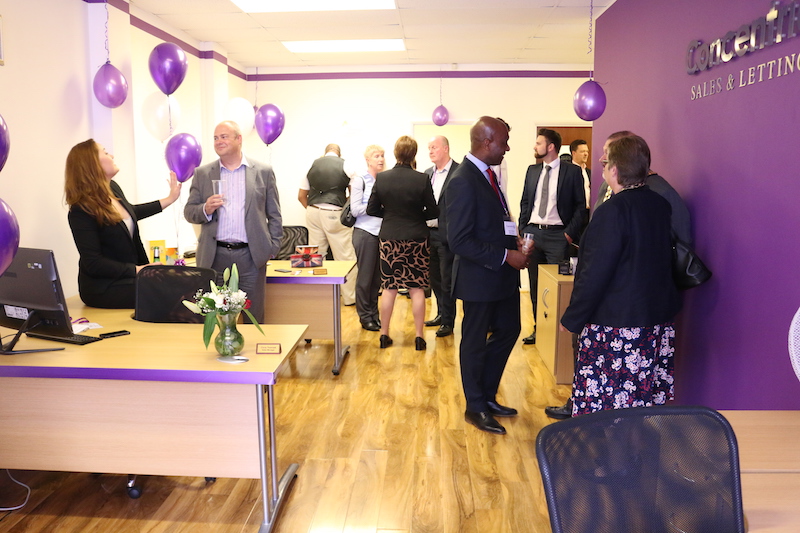 The Hinckley branch is part of the company's wider franchise investment in the UK, with seven other branches across the country centrally managing properties nationwide by local lettings agents.
CEO and Founder of Concentric Sales and Lettings, Sally Lawson, said: "I am really pleased to be expanding the Concentric franchise to Hinckley.
"All of our branches offer a unique service, driven by the needs of the area and based on their own local knowledge and property expertise. Through extensive research, we are prepared to provide Hinckley with the great service it needs."
The Hinckley branch is headed by Branch Director, Funsho Daramola, an accomplished property investor with over 13 years' experience in property acquisitions and refurbishments. He said: "Hinckley and its neighbouring towns are a thriving area for landlords requiring property advice and support.
"Our team is able to offer a complete range of services for investor landlords, ensuring they acquire the best properties in the area that match their ambitions and needs. Our local property experts can help with any questions landlords may have about investing or renting in the area, whether they are high or low value investments, from single lets to houses in multiple occupancy or blocks of flats."
For more information about Concentric Sales and Lettings in Hinckley, call the branch directly on 01455 611 133 or visit www.concentricproperty.co.uk/hinckley/