Welcome to the Wolverhampton Concentric Sales and Lettings Branch
Looking for an Estate Agent or Letting Agent in Wolverhampton?
Concentric Sales & Lettings Wolverhampton specialise in working with investors to help them to buy, sell, rent or invest in property in and around the Wolverhampton area, with specific unique knowledge in HMO and LHA tenancies.
Local knowledge with modern big company thinking
With a team of 5 local property specialists here to help you, no matter what your property goals, we really are the agent of choice for an investor landlord of buyer/seller.
Utilising our many years of contacts and experience in the property sector in Wolverhampton we can achieve property sales where others can't, as well as working with landlords to ensure they are offering safe quality homes to let, to secure great tenants too.
Concentric Sales & Letting Agency Wolverhampton operates at the cutting edge of all areas of property investment in the Wolverhampton Area, with extensive support in the property management area post-letting too.
Whether you are purely looking to buy or sell a property, or have a portfolio that is standard professional sector, HMO, LHA or company lets, the expertise is there to assist you fully.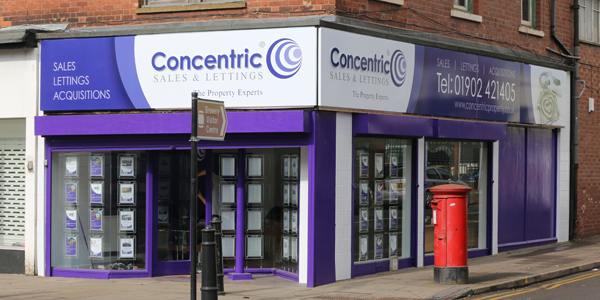 Property Sales – The Full Estate Agency service
When looking to sell a property, many vendors look for to let boards around the town, or those with the biggest adverts or shiniest shops... when in fact, in most cases the success or failure of a quick and good property sale, is usually down to the expertise of the staff or sales team.
Many of our properties are sold via our extensive contacts of property investors looking to buy in the local area, having traded in Wolverhampton since 2011, means we have spoken to literally thousands of investors, giving us a great database to work from, so we really do have the edge.
Unfortunately this means that our "For Sale" boards are not up very long and we have no need for paper advertising, but the results speak for themselves.
The highly experienced Midlands based Letting Agency Team
Managing Director Dawn Bennett has many years' experience in the residential lettings sector within the West Midlands and prides herself and her team in operating a tight ship and maintaining the highest levels of customer service that you will find in the local market anywhere.
Dawn can be found offering training advice to many other new member of the Concentric Group on their regular training days, due to her extensive lettings and property management knowledge. Dawn is assisted by Letting Manager Rebecca Crowther, who is also highly experienced and is a regular contributor to the training sessions as one of the groups most experienced property marketeers.