Welcome to the home of Concentric Hinckley Sales & Lettings Agency Branch, where busy investor landlords can get all of the property services they may need.
The problem nationwide is that many agents don't understand the complexity of property investment, which comprises various and niche markets, and the challenges of managing diverse portfolios whilst balancing the budget.
Concentric has always been an "investor friendly" letting agency, with most of our agencies nationwide being run and operated by active property investors, meaning the network has a real "understanding" of the specific and diverse needs of an investor landlord.
Owner of our Hinckley branch, Funsho, is no exception. As an accomplished property investor with over 13 years' experience in property acquisitions and refurbishments for himself and investor clients, he and Concentric truly understand the investor landlord and all of his needs.
Funsho's work in lettings is leveraged by his extensive investment portfolio, which includes a number of properties nationwide, meaning he truly understands the concerns, worries and aspirations of the property investor. He has now found a niche as a Concentric branch owner, where his interests, passions and expertise combine.

Our Hinckley branch offers Buy to Let Advisory Workshops, to guide investors both new and experienced on what properties to buy in Hinckley and where, dependent on what outcomes they are looking for. Some investors are purely looking for a cash flow return, whilst others are seeking capital appreciation. Dependent on what a property investor is looking for will depend on what is the best sort of property for them to buy.
Funsho and his team also run Buy to Let Seminars, for the information-hungry landlord, with a heavy focus on compliance training, tax and finance updates and property investment returns. Ask the team for details of when the next seminar is scheduled.
Property Sales is part of the picture for Concentric here in Hinckley too, with the added bonus of having access to a database of investors from across the country looking to invest. This includes many from London that recognize the better returns that can be found here in the Midlands, yet with easy accessibility if required. With our property sales service, we find that we have access to many "buyers" that will NOT be looking on Rightmove, and many homes in the Concentric network are sold to existing buy-to-let contacts, if the property meets their specification. If you believe you could sell to a buy-to-let investor, one of our advisors would be happy to let you know if your property meets all mandatory criteria.
Property Refurbishments and Furnishing Services are also available if required, for the complete "hands off" property investment service.
Overall, Funsho and his team offer the complete range of services for investor landlords, ensuring they acquire the best properties in the area that match their ambitions and needs. Our local property experts can help with any questions you may have about investing or renting in the Hinckley and Nuneaton area, whether they be high or low value investments, from single lets to houses in multiple occupancy (HMOs) or blocks of flats.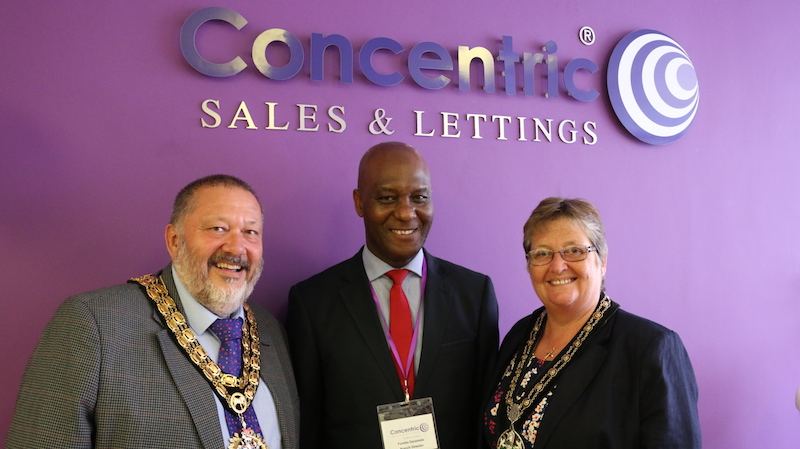 The branch also offers expertise on company lets. Amongst the largest in Hinckley and nearby areas are Triumph on Normandy Way and Caterpillar in Desford, providing huge investment opportunities.
If you'd like to make a branch visit, out office is located close to the corner of Hill Street and Castle Street in the town centre.